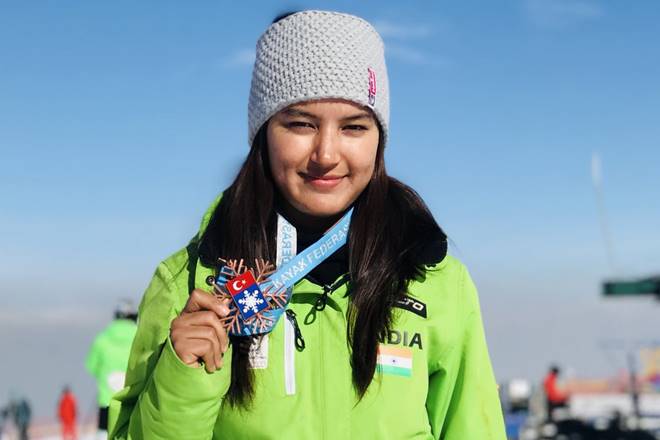 Hailing from the small but picturesque hill station of Manali, Aanchal Thakur created history when she became the first Indian to win an international medal in skiing after winning Bronze at the prestigious Alpine Ejder 3200 Cup organised by the Federation Internationale de Ski (FIS) — skiing's international governing body — at the Palandoken Ski Centre in Erzurum in Turkey. Aanchal was competing in the slalom race category.
"Months of training have finally borne fruit. I started well and managed to take a good lead, which helped later in getting the third-place finish," Aanchal told from Turkey. Her feat is extra special given the lack of culture and infrastructure for winter sports in India. That coupled with the fact that winter sports gets negligible support from the Union sports ministry, just makes the win sweeter.
Aanchal's father, and the secretary general of the Winter Games Federation of India (WGFI), Roshan Lal Thakur was elated as one would expect and said it is a dream come true for any parent.
"I can't express my joy in words. She has been training very hard since childhood and this medal has brought her recognition. We hope she will get help now," the proud father said.
Not only is the whole skiing fraternity proud of her, the whole of India is celebrating this fantastic result.
Both Prime Minister Narendra Modi and Sports Minister Rajyavardhan Singh Rathore also congratulated her for the achievement.
PM Modi tweeted: "Well done @alleaanchal for winning an international medal in skiing! The entire nation is ecstatic on your historic accomplishment at the FIS International Skiing Competition in Turkey. Wishing you the very best for your future endeavours."
Rajyavardhan Singh Rathore wrote:" Congrats Aanchal Thakur @alleaanchal for the Slalom Skiing Bronze in the FIS International Skiing Competition in Turkey.
India opens account by a first ever medal in skiing ??
Well done!
Roshan Lal Thakur said that Aanchal had not received much help till now but he hopes that this achievement will go a along way in getting not just his daughter her due but will also draw attention of the sports ministry towards winter sports.
"Aanchal has been training since the age of 4 years. We have supported her in all the ways possible, but I am sad to say that there hasn't been a lot of help from the government. But I am hopeful now. The Prime Minister and the Sports Minister have taken notice of her performance and I hopeful that things will now improve," Mr Thakur told News18 during a telephonic conversation.
Aanchal who comes from Burua in Manali learnt the ropes from her father before Heera Lal, a former Olympian, helped her polish her skills.